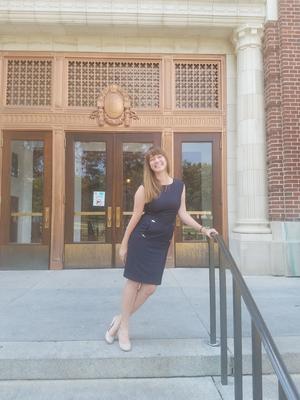 As part of our "Graduate Student Research Week" series, we are spotlighting independent research done by our graduate students. We spoke with PhD student Luisa Ruge-Jones about her research project at the National Center for Supercomputing Applications (NCSA). You can learn more about Luisa's research and teaching here.
Luisa's project focuses on researchers who come to Illinois to work on the NCSA Supercomputer; she examines how diverse groups of researchers can yield creative projects. Currently, the project is in its third year, and is funded through the National Science Foundation EAGER grants. Currently, Luisa and the research team are looking primarily at building creative processes for diverse teams to tackle grand challenges in science, such as climate resilience, food and water security, and energy sustainability. This research works with a diverse set of faculty from across the country on these major science problems.
Another cool part of the research project is shedding light on barriers that scholars face when they are trying to collaborate across
institutions - personal barriers, institutional barriers, workload barriers, and many others. The faculty that are on this project, including our own Scott Poole and Will Barley, work closely with graduate students to help them learn necessary skills for this project. They are given the freedom to make decisions on the project while being guided on appropriate methods. Often they
are just thrown into something new.
Rather than feeling daunted, Luisa finds research fun and thrilling. She considers it the best way to learn a new method or theory. Luisa described being a part of a research team as a fulfilling experience. She has the opportunity to work closely with amazing scholars across disciplines and has a team that bounce ideas off of each other and push each other to think beyond what they could have thought alone. Overall, she has learned what it means to feel a part of an effective team. She has also learned the value of taking communication theory and putting it into practice. In this project, they are not only collecting data to expand theory, but adding on to already existing theories to help real-life teams work on problems that can directly impact society as a whole.
When asked what advice Luisa has for any students wanting to get involved in research, she suggest jumping right in. If you learn about something in class that you can't stop telling your friends about, it might be a great thing for you to continue to learn outside of the classroom. Talk to your professors, look for research on the topic online, and ask about the opportunities for you to study and learn about things that fuel your inner passion.