Image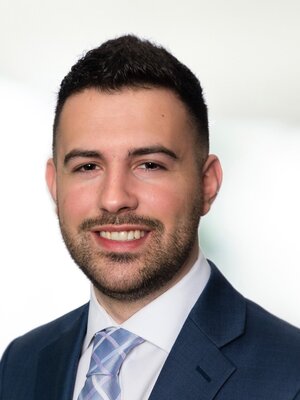 In 2017, Jacob was the student speaker for the Department of Communication's Convocation ceremony. Then, he spoke on the importance of communication in the modern world and encouraged his peers to use their communication skills to enact positive change. Just three years later, we interviewed Jacob to learn more about the latest chapter of his professional journey as a communication consultant. 
Interview by Vivian Liang
Can you provide a brief summary of your work and responsibilities at Willis Towers Watson?
I am a Communications and Change Management Associate Consultant at Willis Towers Watson, a leading global advisory, broking and solutions company. I help major public and private companies manage their communication and change strategies in the space of employee benefits and other initiatives. I've also supported organizations in the talent management and organizational alignment space, which has involved career pathing and skill assessment, as well as gathering and analyzing employee insights.
How has COVID-19 affected your work as a Communications and Change Management Consultant?
Quite a bit! Even prior to the pandemic, many companies needed extensive support communicating their benefits programs, but COVID-19 added new complexity to an already involved effort. Whether that means communicating new benefit programs to help employees during the pandemic, or simply thinking about how careers might look differently in this new virtual environment, COVID-19 has been at the center of my consulting work. 
As someone who received a degree in Communication, what drew you to your current work and

organization?
The world of finance and human capital consulting is actually quite fun! I began my career as an Internal Communications intern (and eventually specialist) at BDO USA, LLP, a major global accounting firm, leveraging communication experience I gained in student organizations at the University of Illinois. There, I was fortunate to have been part of an exceptional communications team that was largely successful in its efforts to inform and engage employees internally.
What's the most rewarding part of your job?
This one I can answer easily: knowing that I am directly helping improve the lives of the thousands of employees who engage with the materials we help companies create every day. Employee benefits and organizational structures are complex enough, let alone for employees who have many other responsibilities to focus on. Helping make information easier for people to follow so that they can feel supported and navigate their career better is very rewarding. I've also been lucky to support intellectual capital pieces by co-authoring articles alongside thought leaders about the effect of COVID-19 on human capital governance, as well as how board members play a key role in supporting inclusion and diversity.
I would also add that all of the deep relationships that I have gained both with own my colleagues as well as those at the companies I've worked with have been very rewarding. I get to work with some of the smartest, hard-working individuals in their fields, and I am grateful for that!
How did your time at the University of Illinois prepare you for your career? Is the work you do now relevant to your undergraduate major?
Deeply so. Many of my organizational communication courses discussed critical concepts of networks and nodes that were necessary to understanding organizational structures —information that has been relevant for several of my projects. My workplace technology class provided me with a core foundation for navigating in the real-world how companies communicate internally. Even more, as someone who works to help employees understand health benefits, my healthcare communication class provided a solid understanding for health terms that I didn't know I'd one day need to understand (e.g., deductibles, coinsurance, etc. — those fun words). I'll mention that I am appreciative for all the teachers I had during my time at the University of Illinois — all of whom greatly helped prepare me for the future.
Outside of classes, I also had joined leadership teams of several student organizations (like the Public Relations Student Society of America, and the Society of Professional Journalists) to gain communications leadership experience that I was able to leverage when beginning my career. These groups also taught me how to work with others to achieve a common goal or deliverable. 
In your opinion, what characteristics do outstanding candidates in your field possess?
This might not need to be emphasized to other communicators, but being a good communicator will get you a long way in most lines of work. More specifically, writing is a critical skill that will also help you in most places — and it has certainly been relevant for me in the world of communications consulting. Luckily, your communication degree will undoubtedly help prepare you to be both a good communicator and writer, and like most other things, the more you practice the better you will become.  
The other characteristic I would add is truly being a team player. In most jobs, your ability to work seamlessly with others to achieve complex goals is critical to success. You should strive to always ask for feedback and be introspective around opportunities for self-growth. Ownership and accountability will help others feel that you listen to them and value their perspectives — while helping you develop at the same time. 
Tell me about your long-term career goals. Where do you see yourself in five years?
In the world of consulting, you are always growing as you work on new projects. As my own skillsets expand, I want to continue to grow in my field and work on projects that I can meaningfully support. That will likely involve communications at its core, but I am learning new skills every day in areas I never expected I would support and enjoy. Like most jobs, growth often corresponds with increased responsibility, and I can see myself having a larger role in projects. I have also always been passionate about leadership and hope to one day see myself having a more formal role mentoring and coaching others in their careers.
Lastly, as an alumnus of the Communication Department, do you have any advice for our students who are interested in this type of job/field?
Like I mentioned, to go into communications or consulting, you'll want to be an effective writer. I'll offer my best writing tip: Speak what you write (or type) out loud, and if it sounds like something a normal person would say when speaking, then it should stand on its own. We are sometimes told that the more complex we write, the better it will sound — this is not always true. Oftentimes, the most distilled and succinct sentences that are easiest to understand will impact readers far more.    
I will end with the same advice I have offered my little brother who is also currently an undergraduate student: any professional experience you can create on your own is a surefire way to increase your chances of success down the line. At its core, the job market rewards experience, creativity and entrepreneurship. At the University of Illinois, you are in good hands and likely much more prepared than you think. Good luck!