Image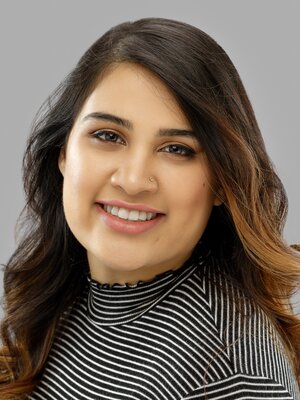 Five Questions with Alumna Ashvini Malshe
Interview by Daria Zelen
What is your current position, and how did you get to where you are today? 
My journey so far has been a diverse one. I have many professional interests, and I've always taken the chance to explore different fields. There are a few common threads that weave their way through all of those experiences: communication and education. Currently, I'm a Communication Specialist for the Purdue University College of Agriculture. I received my bachelor's in Communication at the U of I, and then I went on to receive my master's in journalism from the University of California, Berkeley.
At Berkeley, I worked for a program called GradPro in the Division of Graduate Affairs, where I served as a Professional Development Liaison. Among a small group of other student liaisons, I had the chance to advise graduate students like me on professional development. I facilitated workshops, developed a curriculum, built partnerships with key campus organizations, and served as a vital bridge between the many amazing resources on campus and the students who needed them to succeed during their time on campus and after. This was a pivotal experience for me because I was able to apply my communication, marketing, and journalism skills to my passion for higher ed. This only propelled me to pursue similar opportunities after I graduated, which is how I ended up at Purdue. On a talented communications team, I now apply all of my career experiences and skills elevating faculty research, student experiences, employee achievements, and university news on a domestic, national, and global scale. My long-term goal is to continue working in higher ed administration.
You recently won the Bravo Award from Purdue University. What has winning this award meant to you?
An award like this serves to motivate you and your work, and it really has been a boon. I'm grateful to be recognized alongside many other incredible Purdue employees and am excited to continue this work.
What aspects of your education as a communication student have been the most beneficial to your career?
Communication has always appealed to me because of its expansiveness. It's a diverse field that gives you the ability to be a sort of chameleon. Communicators all have similar skill sets, but our passions and personal interests lead us to pursue different fields. And it's best to embrace that – explore many fields and find what fits. Your degree gives you that invaluable opportunity, and it's been really beneficial to my career progress.
Getting hired can be really difficult, especially right now! What are some tips you would give to communication majors entering the workforce?
Diversify – try finding jobs in various industries if the one you're looking for isn't giving you the results you want. Stay active in professional organizations, visit their social media accounts, and see what other professionals' job search experiences have been like. Try to learn from them. And be persistent – a lot of the positive results that come from job-hunting don't happen overnight. Have a routine, have an organizational system, and work from there. It'll really take a lot of stress out of the process.
What advice would you give to current communication students?
Try not to say no to any opportunities if you think they sound interesting. You never know what you may discover in the process!