Image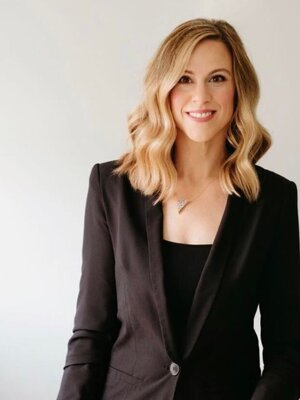 Five Questions with Alumna Angie Hatfield Marker
Interview by Daria Zelen
What is your current position, and how did you get to where you are today?
President & CEO of the Community Foundation of East Central Illinois. Right after graduation, I started working in the for-profit sector. I was working 50-60 hours a week. It was exciting work, I was well-compensated, and I was using my degree every day--I loved every minute! During that time, I had the privilege of sitting on Crisis Nursery's Board of Directors. Crisis Nursery is a local nonprofit serving families in crisis. After the birth of our children, I knew I wanted to do something more part-time with purpose—but still, use my communication skills. A development and communication position became available at Crisis Nursery. I applied and was hired, working in that role for two years. I joined the staff of the Community Foundation about five years ago and was promoted to my current role in June 2021.
What has been your proudest achievement?
In my role at Crisis Nursery, we were able to solicit a major gift to complete phase one of a capital campaign for building expansion. And then the next year, we were able to solicit another major gift from the same donor to kick off phase two of the campaign. Seeing the children and families using that new facility was so fulfilling. I'm so lucky to have similar experiences every day in my role at the Community Foundation. I'm able to connect donors who care with causes that matter. Furthermore, I'm so proud to be a "broker of hope."
What aspects of your education as a communication student have been the most beneficial to your career?
What aspects weren't!? All the writing and speaking courses have been most beneficial to my career. My undergraduate coursework gave me the confidence to speak to anyone—a skill set that can take a student anywhere.
Getting hired can be really difficult, what are some tips you would give to communication majors entering the workforce?
Failure is OK. Make mistakes and learn from them. It's also fine to take a job that isn't exactly what you'd planned--take the opportunity to learn along the way. Acknowledge your strengths and find positions that allow you to use those strengths. Mentors and/or sponsors can be career and life-changing—find a few to help you.
What advice would you give to current communication students?
Talk to everybody. Networking is the foundation for modern careers. But it's so much more than just career-building, it's life-building. You'll be amazed at how much you can learn from other humans. I've enjoyed so many opportunities that have stemmed from the most random conversations! New jobs, funding opportunities, collaboration, and even meeting my husband! It's no coincidence that people who are curious, open, and authentic—and engaged with the world—tend to stumble into all sorts of interesting things.