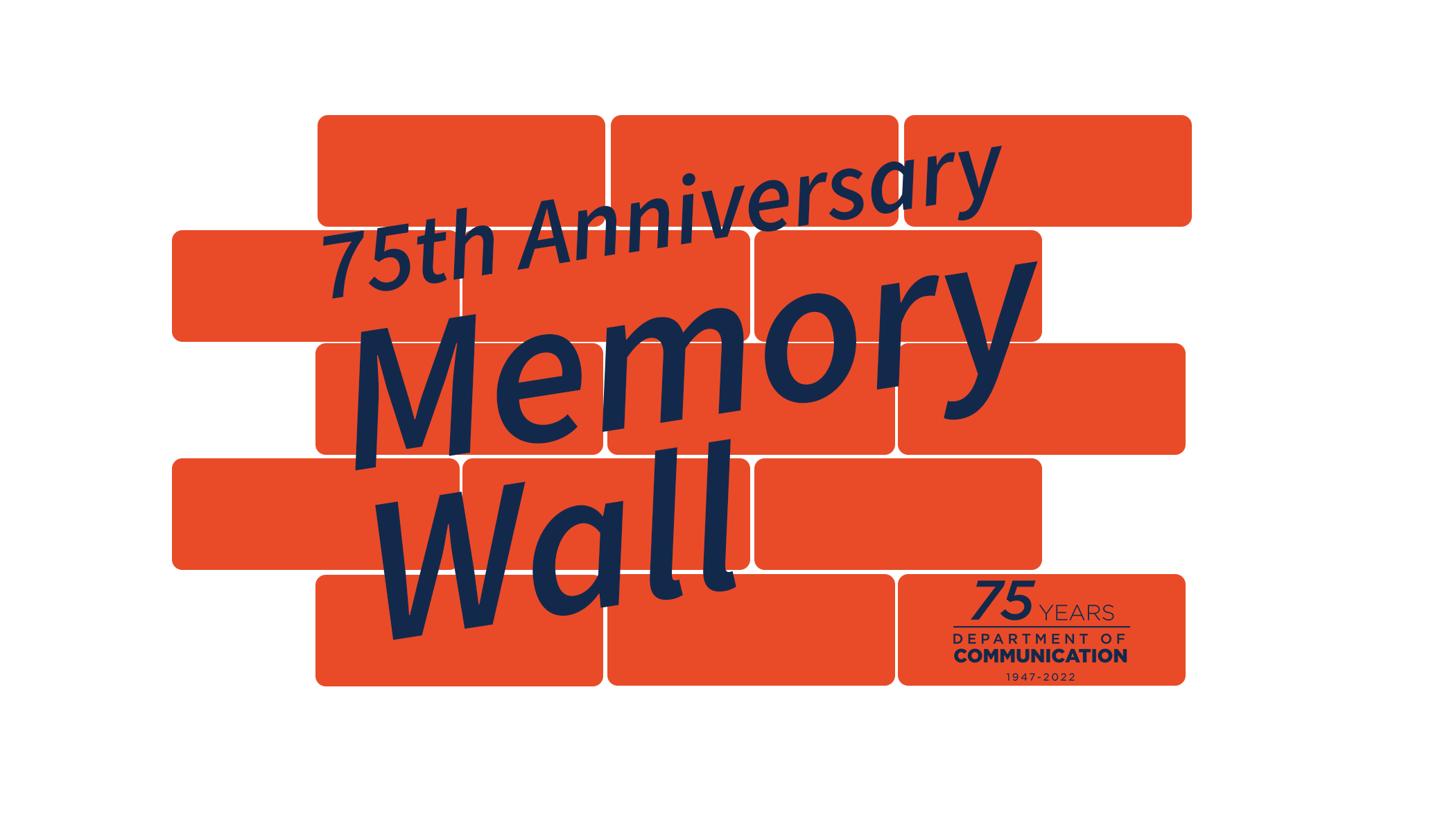 The Department Timeline now has its own page. Click here to view the Department Timeline.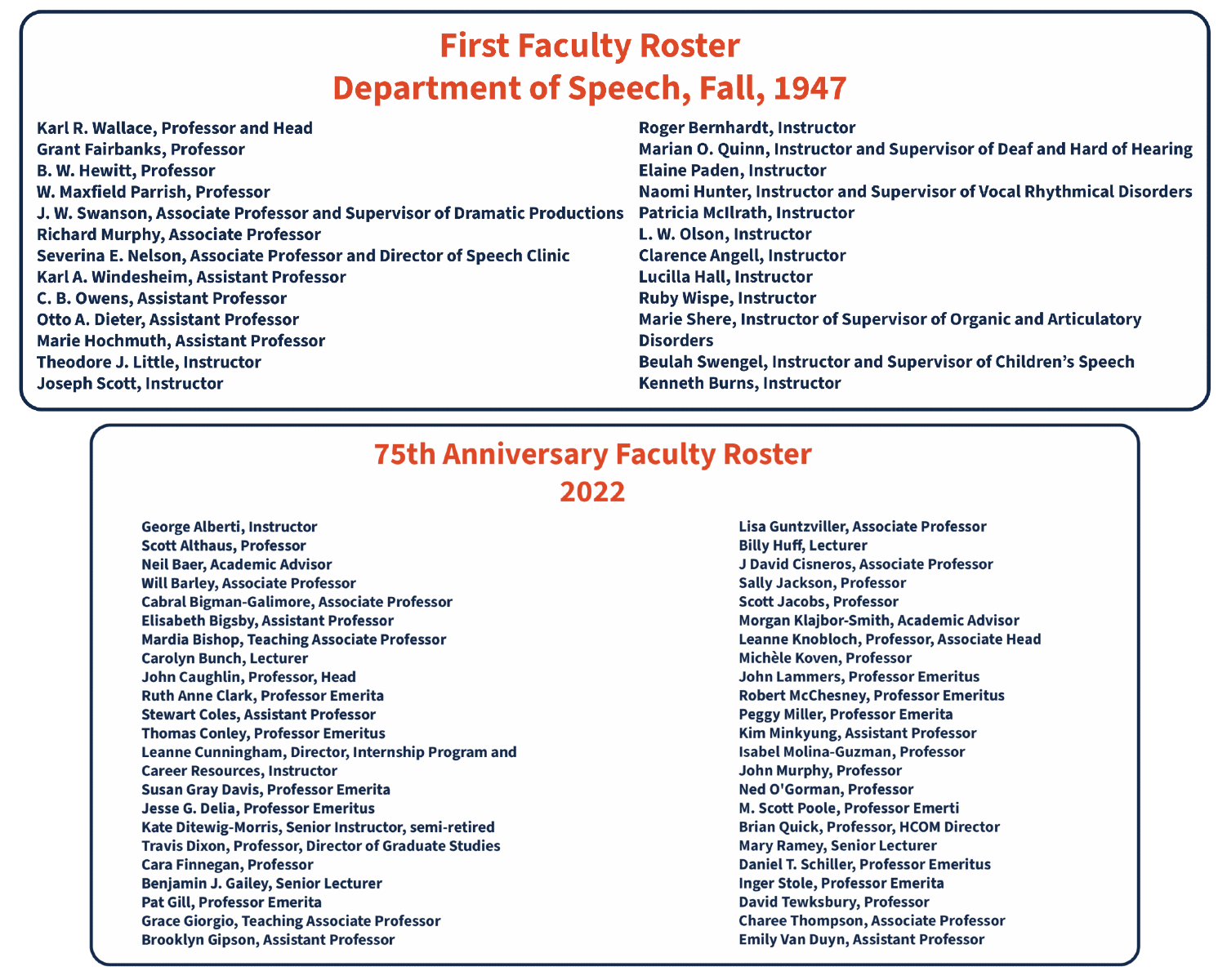 Recent Additions to the Memory Wall
"I loved my time with the Department of Communication here at UIUC.

I started off as a Student Worker in Lincoln Hall, and that is where I met the beloved faculty. I was so grateful for the opportunity to interact with all the professors, graduate students, and support staff.

From only a semester of these interactions, I decided to pursue a degree in Communication with a focus in Rhetoric and Mediated Communication. I even ended up becoming an Undergraduate Teaching Intern for my favorite class! By excelling in this course of study, I was asked to become a Communication Leader, join Lambda Pi Eta, and even graduate with Distinction.

Being part of Communication Leaders and working for the Department have been some of my favorite memories on campus. We were able to create a sense of unity amongst the department. I loved planning and attending events such as Meet the Department in the Fall and the Spring Social. I really enjoyed spending time with fellow students and getting to hear some research as well.

My favorite part of the Department of Communication, though, would have to be the personability of the faculty. I never found it difficult to contact an instructor, and they always provided excellent feedback. I felt like I could reach out to any professor, lecturer, or teaching assistant.

…I just want to close with a huge THANK YOU to everyone I have worked with, been taught by, or interacted with in this department. You all have meant so much to me over these years."
-Lisa Donato, Class of 2015
"l remember and cherish my days under the tutelage of Marie Hochmuth Nicols, Roger Nebergall, and others during a time when the department was simply called the "speech department."
In 1969, I was a newly minted graduate of the undergraduate English education program at the University of Illinois. I wasn't sure what I wanted to do next, but I knew that I wasn't quite ready to leave the university, and I wasn't exactly sure that high-school English teaching was the right path for me. Turns out, I was wrong about that, but I wasn't wrong about wandering into the speech department office at the end of the spring, asking the wonderful office manager, Mrs. Bowman, about the possibility of applying for the master's degree program in speech.
Mrs. B. was not only encouraging, but urged me to "stay by the phone near the end of the summer" when assistantships would be finalized. At the time, I was seeking out future employment possibilities in the hope that I would be returning to campus again in the fall for a master's program. The only job I could find at that point was a 20-hour position in the library, which paid something like a dollar an hour—not nearly enough for housing, tuition, and fees, not to mention basic amenities like food and clothing! Undaunted, I took Mrs. Bowman's advice and "waited around." I can still remember my excitement when she called a week before classes started, informing me that I was awarded a graduate assistantship! Without that support, I would have never been able to afford a graduate education at that point in my life. I learned so much in the public speaking classes I taught as part of that assistantship in 1969 and 70. I shall always treasure my days teaching in Lincoln Hall.
For some reason, I've saved all of my papers from the master's program. The first paper I wrote for Dr. Nicols was on the daunting (and possibly impossible) topic of "the meaning of nature, art, and science, in the 18th century." Talk about a broad topic! I still remember the single comment she wrote on the top of my very first graduate paper: "you have discovered the value of primary sources, without which one can learn little." What an amazing woman and scholar she was! I will always remember her seminars with great fondness and what appears to be a lingering sense of intimidation!
Since my time as a student in your department, I've been, by turns, a high-school and middle-school teacher of English, speech, drama, forensics, and debate; a lecturer in public speaking and interpersonal communication as well as forensics coach in the speech department at Vanderbilt University; and most recently, professor and director of the English education program at Syracuse University for twenty years before retiring in 2007.
I am ever grateful for the time I spent in your terrific department and send my best wishes for what I know will be an amazing celebration!"
Susan Hynds, Class of 1970
"Dr. Cara Finnegan and her photography in the public life course was a wonderful learning aspect to experience while at UIUC. This was my first course I took as a transfer student and it was very relatable to our current world of social media and being exposed to so many different photographs on a daily basis. Dr. Billy Huff hosted a Gender Communication course too that is the pinnacle point of today's world in inclusive viewing of people's lives. These courses are leading topics in the Communication discipline at UIUC and are must take courses!"
Patrick Gorski, Class of 2021
"I arrived in Illinois as a child in 1947, when my father (Karl R. Wallace) became the first head of the Oral communication, rhetoric, theater and "speech pathology" department. I recall only Bernard Hewitt, head of the theater division. Dad remained head until 1968, building the department (then speech and rhetoric only, I recall) to about 140. During this time, I have been told this department attained national recognition for rhetoric, and my father a similar recognition. He wrote or edited a number of books, including two ("Fundamentals of Public Speaking" and "Oral Communication") with Donald Bryant of the University of Iowa which became standard college textbooks. I recall playing in his office (?101-102 Lincoln Hall) with the wax-covered Dictaphone. And "overseeing" his preparation of the first Vespa motor scooter on the Illinois campus – needed because there was no parking near Lincoln Hall except a bicycle parking lot next door. The Vespa was replaced by a Lambretta when the bicycle lot contents were stolen en masse one day. I believe he is honored by a research grant administered by your department and an endowed professorship in his name, and I suspect most of his students, miss most his erudition and his total mastery of the English language."
-Peter. D. Wallace, MD, MS, CPE, FACPE, FAAP
As we celebrate our 75th anniversary throughout the 2022-2023 school year, we are looking to our alumni to help us preserve individual alumni stories and memories.
Let us tell your story and share it with our ever-expanding community of communicators throughout the world.
All submissions will be reviewed before being posted to the Memory Wall section of the website.
Consider these ideas:
Your favorite memory as a student in the Department of Communication (or its other iterations).
Do you have a memory about your favorite instructor, professor, or advisor?
Were there any department activities or events that were particularly memorable for you?
Do you have any memories from your favorite class?