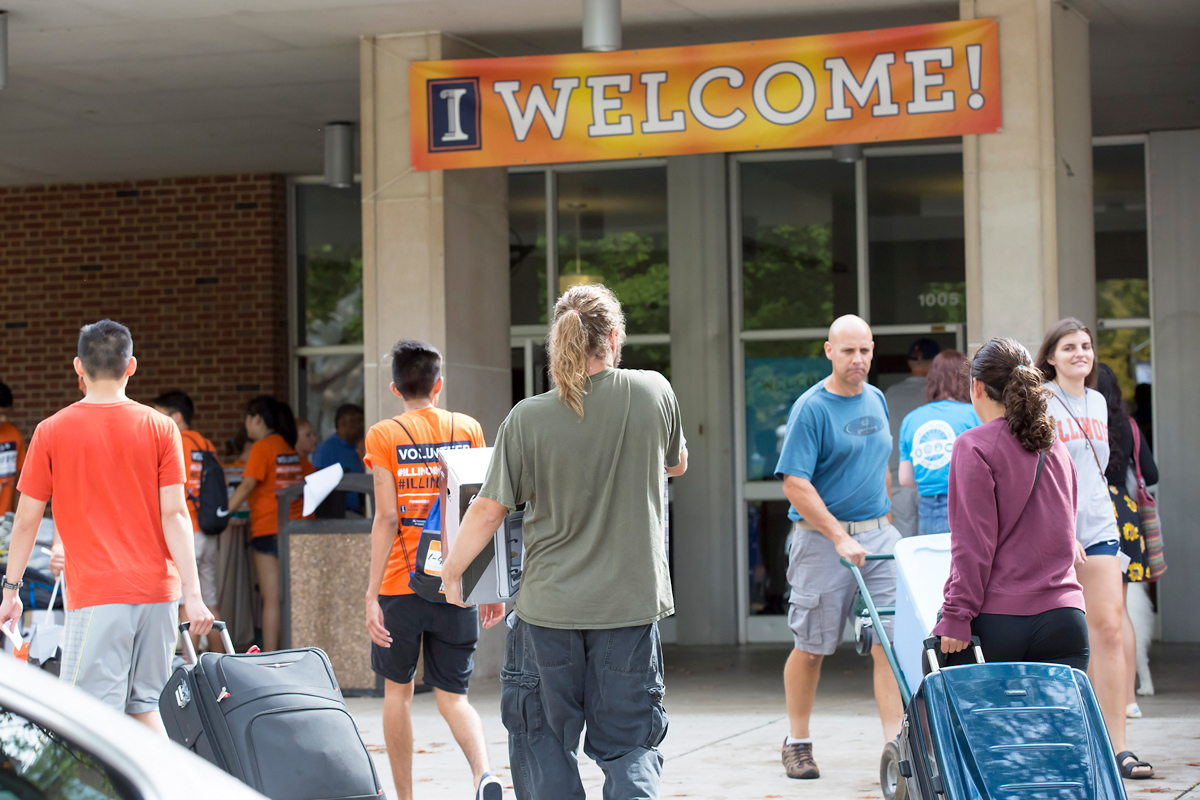 This page is designed for students entering our graduate program. It will help you set up your student identity on campus as well as easily access information and resources about our department, campus and community. If you have any questions about what you find below, please contact the Director of Graduate Study, Dr. Travis Dixon (tldixon@illinois.edu). 
I Formally Accepted the Offer of Admission: Now What?
First, visit the Graduate College's Quick Guide to get started. Complete Steps 1-4 as soon as possible after officially accepting your admission offer. 
Once you have completed Step 4 of the Quick Guide, contact Director of Graduate Studies Dr. Travis Dixon to discuss registration for fall classes. He serves as the temporary advisor for all new students, and you must consult with him before you register. We would like all new graduate students to be registered for fall by May 15. (Note: International students cannot actually register for classes until they have completed the International Student Check-In process in person; however, you should connect with Dr. Dixon before May 15 about courses you want to take.)
Review and bookmark the Graduate Handbook, the comprehensive guide to our graduate program. It describes program requirements and contains important information about financial aid, travel support, graduate student research, and other matters. Most basic questions about the program can be answered by consulting the Graduate Handbook.
When Should I Plan to Arrive on Campus?
All new graduate students should plan to be in town and ready to participate in departmental activities by August 16. All assistantship and fellowship appointments officially begin on that date. A more specific schedule will be sent out later, but for now, please be aware that you will be attending (1) orientation meetings for the graduate program, and (2) teaching training sessions (if you hold a teaching assistantship).
I Have Registered and Reviewed the Graduate Handbook: What Else Do I Need To Do?
If your financial aid package includes an academic year (not summer) fellowship from either the department or the Graduate College, the Graduate College will send you a notice of appointment link you MUST accept and return to the Graduate College; this is how you formally accept the fellowship. 
If your financial aid package includes a teaching assistantship, sometime during June you will be notified about your teaching assignment by the course director. That person will share information about fall teaching orientation and may provide you with teaching materials for the course you'll be teaching. 
If your financial aid package includes a teaching assistantship, during the summer you will be contacted by our payroll person in the Department of Communication. This email will give you a list of steps that you need to take so that you can get your first paycheck on September 16. Some of these steps you will need to attend to right away, and some of it you can do online. Other things you will need to take care of immediately upon arriving on campus or over the summer (if you visit to look for housing, etc.). It is VERY important that you follow the instructions; failure to do so could cause a delay in your paycheck (and nobody wants that!).
Resources for Information about the Department and Graduate Program
Get information about our faculty, including their latest research projects. Check out what our recent M.A. and Ph.D. graduates are doing. And don't forget to follow us on Facebook, Twitter, and Instagram.
Resources for Information About the Campus and Community
University of Illinois Library
Living in Champaign-Urbana 
Housing for Graduate Students
Health Care and Wellness 
Resources for Partners, Spouses and Families
International Student Resources
Directions to Campus
Campus Maps 
Local Maps 
Champaign-Urbana: Smart, Innovative, Micro-Urban (video) 
Champaign-Urbana: #5 "Smart Growth Community" 2014