Image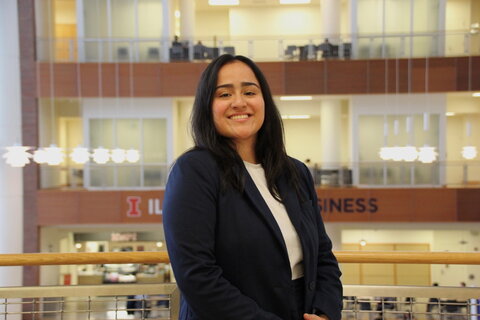 Cecilia Espinosa, a sophomore majoring in communication and political science with minors in Spanish and business, has been selected as a Key into Public Service Scholar by the prestigious Phi Beta Kappa honor society. The award recognizes students who have demonstrated interest in working in the public sector and possess a strong academic record in the arts, humanities, mathematics, and natural and social sciences.
Chosen from more than 900 applicants nationwide, Espinosa is one of just 20 scholars that who will receive a $5,000 scholarship and participate in a conference this June in Washington, D.C., where attendees will receive training and mentoring, and learn about pathways to careers in the public sector.
"The Society applauds the Service Scholars for their intellectual curiosity, community engagement, and dedication to the common good," says Phi Beta Kappa sSecretary Frederick M. Lawrence. "The well-rounded education these outstanding students are pursuing will prepare them well for a meaningful, productive, and engaged life in public service. We look forward to the contributions each member of the 2023 Key into Public Service Class will make to the nation in the years ahead."
Espinosa is a first-generation college student whose extracurricular activities showcase dedication, ambition, and passion. She serves as an intern for the College of Liberal Arts & Sciences, but her involvement on campus extends beyond the College of LAS. She is a member of the James Scholars Honors Program and Pre-Law Honors society, and serves as an ambassador for La Casa Latinx Cultural House and Student Alumni Ambassadors, in addition to being a member of several other clubs on campus.
Espinosa will leverage what she has learned at the University of Illinois Urbana-Champaign in her upcoming study abroad program in Spain and to eventually earn a dual JD/MPA in the hopes of becoming an attorney or public-sector consultant.
For more information about the scholarship and links to individual biographies of the recipients, please visit pbk.org/KeyintoPublicService.