Illini Success initiative studies LAS alumni within six months of graduation
Image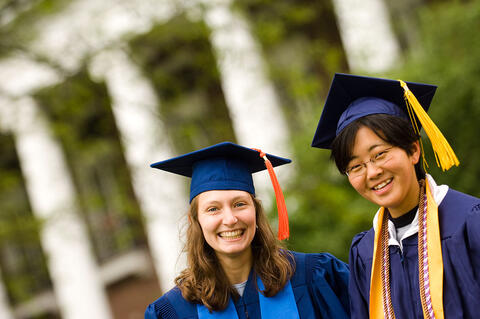 The Department of Communication ranked number one among Liberal Arts and Sciences majors in a new study by the Illini Success Initiative. The study found that "new graduates from the College of LAS continue to be successful at securing a first destination soon after graduation... and those who have landed jobs are also drawing larger salaries for their work." First destinations include employment, continuing education, or volunteer/service positions.
According to the Illini Success initiative, a campuswide effort to gather career-related information about recently graduated bachelor's degree recipients, 95 percent of communication alumni reported landing a first destination, and 73 percent of communication alumni reported being employed. The department of Communication was ranked highest among LAS majors in both of these measures.
At the College level, the study found that 87 percent of LAS graduates from the 2017-18 academic year secured a first destination within six months of graduation. An estimated 50 percent of LAS bachelor's degree recipients pursued employment as their first destination employed within six months, and 37 percent were pursuing more education. Additionally, the average full time salary of LAS graduates within six months of graduation was $55,325. The median signing bonus was $5,000. The salary figure is third among colleges on campus, after the College of Engineering and Gies Business.
By comparison, the percentage of graduates securing a first destination within six months of graduation stood at 86 percent in 2016-17 and 83 percent in 2015-16. The average salaries of those who found jobs within six months were $53,226 in 2016-17 and $48,981 in 2015-16. 
The numbers reflect alumni who graduated during the August 2017, December 2017, and May 2018 graduations. The results come from surveys, employer and college reports, and the LinkedIn social media network, a particularly popular tool for sharing career-related information. This year, the Illini Success initiative was able to gather career information on 2,189 of the 3,162 LAS graduates from 2017-18, for a 69 percent knowledge rate.
"We are very pleased by the trends we see in the Illini Success initiative," said Feng Sheng Hu, the Harry E. Preble Dean of the College of LAS. "This year's report indicates that our graduates continue to successfully move to the next stages of their careers, whether they choose employment, more education, or service. Our LAS graduates leave campus with a strong foundation that will help them pursue the careers of their dreams."
The Illini Success initiative was spearheaded by The Career Center, but it receives support from units all across campus. Career data has important implications, from addressing the questions and concerns of prospective students to answering accreditors who are measuring institutional quality. Federal and state governments are asking for more information about the value of a college education, and making comparisons that can potentially be tied to funding of higher education institutions.
This article is excerpted from an LAS News Desk article written Dave Evensen. You can read the full article here.