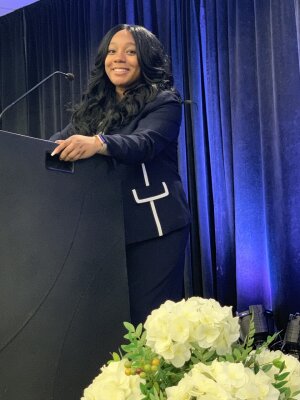 Contact Information
3001 Lincoln Hall, MC-456
702 South Wright Street
Urbana IL 61801
Office Hours
Mondays: 12:00pm-2:00pm or by appointment
Research Areas
Research Areas
PREDOC FELLOW, Grad Coll Minority Affairs Ofc
Biography
Victoria T. Fields is a doctoral student in the Department of Communication at UIUC. Her research interests include critical intercultural communication, race, gender and women's studies, and sports. 
Education
B.S in Communication and Sport Management, Eastern Michigan University, Summa Cum Laude
M.A in Communication with an emphasis in Rhetoric, University of Illinois at Urbana, Champaign
Grants
NCA Student Caucus Travel Grant (2019)
Awards and Honors
Illinois Summer Pre-doctoral Institute Fellow (2019)
Illinois ASPIRE Fellow (2019-2020)
University of Illinois Health Maker Lab Fellow (2020-present)
Wayne Brockriede Graduate Fellow (2021-2023)
Courses Taught
CMN 101: Public Speaking
CMN 210: Public Communication in Everyday Life
CMN 340: Visual Politics
Additional Campus Affiliations
Students Advising on Graduate Education (SAGE), 2020-2021
Graduate College Executive Committee, 2021-2022
Highlighted Publications
Journal Articles
Fields, Victoria T. "The rhetorical discourse surrounding female intersex athletes." McNair Scholars Research Journal, vol. 11, no. 1, 2018, p. 31-43.
Knoester, Christopher, and Victoria T. Fields. "Mother-child engagement in sports and outdoor activities: Intensive mothering, purposive leisure, and implications for health and relationship closeness." International Review for the Sociology of Sport, 2019, p. 1–20.