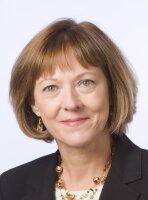 Contact Information
3001 Lincoln Hall, MC-456
702 S Wright Street
Urbana IL 61801
Biography
Sally Jackson earned three degrees in Communication from the University of Illinois. She returned to Illinois as a member of the faculty in 2007, concurrent with appointment as the campus Chief Information Officer and Associate Provost, a position she held until 2011. Professor Jackson held prior faculty appointments at the University of Nebraska-Lincoln (1979-1982), Michigan State University (1982-1985), Oklahoma University (1985-1990), and the University of Arizona (1991-2007). While at Arizona, she held a series of academic leadership positions, rising to Vice President for Learning and Information Technologies and becoming the university's first Chief Information Officer.
Research Interests
Argumentation
Communication Technology
Research Description
The central theme in Professor Jackson's work has been communication design, with specific interests ranging from the natural design of argumentation to highly engineered systems for managing complex human activities.
Education
PhD, Illinois, 1980
AM, Illinois, 1976
AB, Illinois, 1974
Courses Taught
Communication Technology and Society
Research Methods in Health Communication
Honors & Awards
Outstanding Scholarship Award, Language and Social Interaction Division of National Communication Association, 2005
International Society for the Study of Argumentation Research Award, 1997
Charles Woolbert Award, National Communication Association, 1995
American Forensic Association Award for Outstanding Research in Argumentation, 1994
American Forensic Association Daniel M. Rohrer Award in Argumentation Research, 1983
Golden Anniversary Monograph Award, National Communication Association, 1981
Recent Publications
Jacobs, S., Jackson, S., & Zhang, X. (2022). What Was the President's Standpoint and When Did He Take It? A Normative Pragmatic Study of Standpoint Emergence in a Presidential Press Conference. Languages, 7(2), [153]. https://doi.org/10.3390/languages7020153
Jackson, S. (2019). Reason-Giving and the Natural Normativity of Argumentation. Topoi, 38(4), 631-643. https://doi.org/10.1007/s11245-018-9553-5
Jackson, S., & Schneider, J. (2018). Cochrane Review as a "Warranting Device" for Reasoning About Health. Argumentation, 32(2), 241-272. https://doi.org/10.1007/s10503-017-9440-z
Schneider, J., & Jackson, S. (2018). Modeling the invention of a new inference rule: The case of 'Randomized Clinical Trial' as an argument scheme for medical science. Argument and Computation, 9(2), 77-89. https://doi.org/10.3233/AAC-180036
Jackson, S., & Schneider, J. (2017). Argumentation devices in reasoning about health. CEUR Workshop Proceedings, 1876, 49-53. http://ceur-ws.org/Vol-1876/paper10.pdf