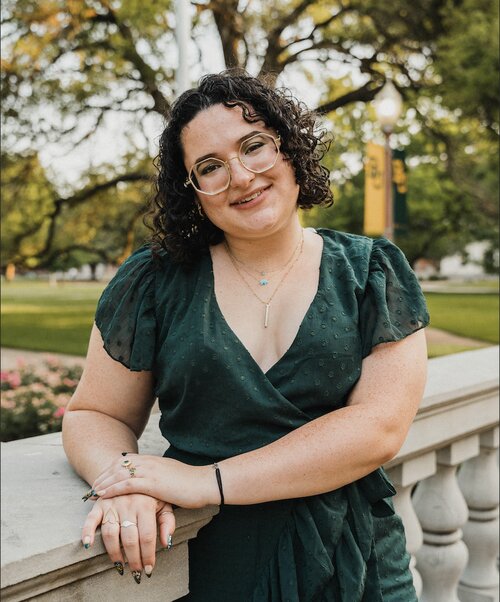 Office Hours
Spring 2023: Tuesday, 11am-1pm
Research Areas
Biography
Emily is a first-year Ph.D. student in the Department of Communication studying sexual and interpersonal communication. She is originally from Long Island, but spent the last two years in Texas completing her master's degree at Baylor University and coaching the Baylor University Debate Team. Emily uses critical theory to research mediated relationships, consent, disability, and sexual violence. 
Research Interests
mediated relationships, health communication, sex communication, interpersonal communication, critical theory, technology
Research Description
M.A. Thesis: "Information-Seeking Strategies for Receiving Consent: Applying the Theory of Motivated Information Management to Sexual Relationships Between College Students"
Drawing from the Theory of Motivated Information Management (TMIM), this thesis applies the process of information seeking to consent utilization during casual sexual encounters between college students. The goal of this study is to (1) test the applicability of the TMIM model to communication during hookups, (2) gain insight into how partners communicate their sexual desires, and (3) identify external consent factors that would affect the TMIM model in this instance. Participants (N = 495) answered questions about their most recent sexual encounter, who their partner was during that encounter, and the ways they understood their partner's desire. Multiple linear regression results demonstrate the applicability of TMIM in explaining how external consent factors—gender, relationship history, and sexual behavior—predict communication about sexual desire during hookups. Data indicate significant results for every relationship in the TMIM model, as well the relationship between information management strategies and this study's identified consent factors. Implications are discussed in the context of consent education for college students.
Education
M.A., Communication, Baylor University
B.S., Business Analytics, Binghamton University
Awards and Honors
Illinois Distinguished Fellowship, University of Illinois Graduate College
Courses Taught
CMN 111: Oral and Written Communication I
CMN 112: Oral and Written Communication II
Recent Publications
Buttgereit, T., Mendelson, E., & Schatz, J.L. (2019). 'Poisoning' Masculinity: Poison Ivy as a Counter-Narrative of Villainy and Trauma through Representations of Queer Love in DC's "Everyone Love's Ivy." Published November 2019 in Schatz, J. & Parson, S. (eds.) Superheroes and Masculinity. Lanham, MD: Lexington Books.