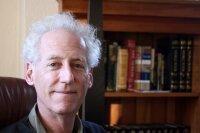 Contact Information
GSLIS, 222 LIS
501 E Daniel
M/C 493
Champaign, IL 61820
Additional Campus Affiliations
Highlighted Publications
Journal Articles
Schiller, Dan. "Power Under Pressure: Digital Capitalism In Crisis." International Journal of Communication, no. 5, 2011, p. 924-941.
Schiller, Dan. "An Update On China In The Political Economy Of Information And Communications." Chinese Journal of Communication, vol. 1, no. 1, 2008, p. 109-16.
Schiller, Dan. "China in the United States." Communication and Critical/Cultural Studies, vol. 5, no. 4, 2008, p. 411-15.
Schiller, Dan. "The Militarization of U.S. Communications." Communication, Culture and Critique, vol. 1, no. 1, 2008, p. 126-38.
Books
Schiller, Dan. How To Think About Information. Urbana: University of Illinois Press, 2008.
Continental Order? Integrating North America for Cyber-Capitalism. Edited by Vincent Mosco, Compiled by Dan Schiller, Lanham: Rowman & Littlefield, 2001.