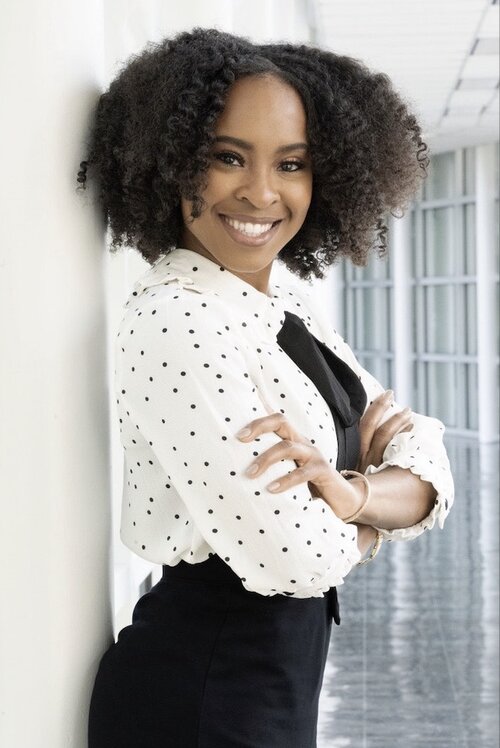 Contact Information
3001 Lincoln Hall, MC-456
702 South Wright Street
Urbana IL 61801
Doctoral Student
Graduate College Fellow
Biography
Déjà Rollins is a Dallas, Texas native, whose professional experience in radio & TV broadcasting laid the foundation for her doctoral studies in the Department of Communication at the University of Illinois. Her research centers on mediated communication and technology with an emphasis on its effect on race, culture, and identity.
In her free time, Déjà enjoys spending time with her kids, hitting the gym, recording & posting her dinner recipes online, and binge-watching new TV series.
Research Interests
Media Effects; Media Psychology; Media Stereotypes; Media & Emotion, Traditional & Digital Media
Education
2018 – M.A., Emerging Media & Communication, The University of Texas at Dallas
2012 – B.S., Journalism, The University of Texas at Tyler
Awards and Honors
 List of Teachers Ranked as Excellent – The University of Illinois at Urbana Champaign
               Fall 2021, Spring 2022, Summer 2022, Fall 2022, Spring 2023
2023      President's Research in Diversity Travel Award - Vice President of Academic Affairs, UIUC
2022      Ruth Anne Clark Research Award – Department of Communication, UIUC
2022      Henrey L. Mueller Award (Most Outstanding New Teaching Assistant) – Department of Communication, UIUC              
2020      Graduate College Fellow – Graduate College, UIUC
2020      Summer Pre-doctoral Institute's Outstanding Scholar Award – Graduate College, UIUC
2020      Summer Pre-doctoral Institute Fellow – Graduate College, UIUC 
Courses Taught
CMN 101 – Public Speaking 
CMN  336 - Family Communication
CMN 277 – Intro to Mediated Communication
Additional Campus Affiliations
Black Graduate Student Association 
President (2022-2023)
Treasurer (2021-2022)
Highlighted Publications
Stamps, D., Jordan, J., & Rollins, D. (under review). Cultivating Copaganda: Black audiences' consumption of Black law enforcement TV characters and attitudes toward law enforcement. Media Psychology.
Guntzviller, L. M., Pulido, M., Kelpinski, L. F., Makos, S. M., Rollins, D. D., Zenzola, N., & Babu, S. (2023). An extension of advice response theory over time. Human Communication Research. 
Rollins, D., Bridgewater, E., Munzer, T., Robb, M., Weeks, H., Schaller, A., Yancich, M., Gipson, W., Drogos, K., & Radesky, J. (May 2022). Who is the YOU in YouTube? Missed Opportunities in Race and Representation in Children's YouTube Videos. Common Sense Media Report.
Rollins, D. D. (2021, February 8). A Digital Collective Gaze: How Black Women on Twitter used Hippolyta's Futuristic Journey to Look Back. Retrieved February 12, 2021, from https://mediacommons.org/imr/content/digital-collective-gaze-how-black-women-twitter-used-hippolytas-futuristic-journey-look-back.