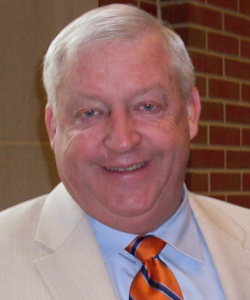 Contact Information
3001 Lincoln Hall, MC-456
702 S. Wright Street
Urbana, IL 61801
Biography
Tom Costello a former Chicagoan has been a member of the Communication Department since 1972. He has been a graduate student, a teaching associate, an instructor and a senior instructor.
He has the opportunity every fall to welcome freshman to college life as he teaches CMN 101, an introductory speaking course. Tom helps students close out their college career and launch their professional career as an instructor of CMN 211 Business and Professional Speaking and CMN 396 Leadership Communication Theory and Practice.
He has received recognition by both the College of Liberal Arts and The University of Illinois for "Excellence in Undergraduate Teaching".
He recently retired as the Chief Operating Officer from the nationally recognized and award winning Champaign Urbana Mass Transit District. A position held for nearly forty years.
Costello has served on numerous community boards and commissions. He is currently a member of the UIUC Faculty Senate. He is Chair of the Illini Media Corporation, the parent company of the Daily Illini , WPGU, and the Illio Yearbook. He is past chair of the East Central Illinois Community Foundation and serves on the Developmental Services Foundation Board.
He is keenly interested in the marriage of practice and theory in organizational settings.
Research Interests
Organizational Communication and Leadership
Education
John Carroll University, Miami of Ohio, University of Illinois
Awards and Honors
College Of Liberal Arts Award for Excellence in Undergraduate Teaching Campus Award for Excellence in Undergraduate Teaching
Courses Taught
CMN 101 Public Speaking, CMN 211 Business and Professional Speaking, CMN 396 Leadership Communication