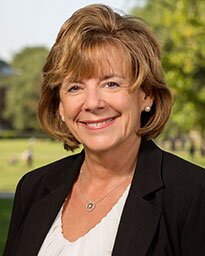 Contact Information
377 Henry Administration Building
506 South Wright Street
Urbana, IL 61801
Executive Vice President and VP for Academic Affairs, Professor
Biography
Barbara J. Wilson (Ph.D., University of Wisconsin-Madison) is the Executive Vice President and Vice President for Academic Affairs for the University of Illinois System.  She is also a professor in the Department of Communication at the University of Illinois at Urbana-Champaign, where she served as Department Head from 2002 to 2009.  She also served as Executive Vice Provost and then as the Harry E. Preble Dean of the College of Liberal Arts and Sciences, before being appointed Interim Chancellor from 2015-16.  Before joining the University of Illinois in 2000, she was on the faculty at the University of California, Santa Barbara for 12 years.
Her areas of expertise include the social and psychological effects of the media, particularly on youth.  She is co-author of Children, Adolescents, and the Media (Sage Publications, 2002; second edition, 2009; third edition, 2014) and three book volumes of the National Television Violence Study (Sage Publications, 1997-1998).  She also co-edited the Handbook of Children, Media, and Development (Wiley-Blackwell, 2008), and has published dozens of scholarly articles and chapters on media effects and their implications for media policy.  Recent projects focus on preschoolers' attachment to media characters, the amount and quality of educational television programming for children, and children's attraction to media violence. 
In 2008, Dr. Wilson was elected as Fellow of the International Communication Association.  She has served as a research consultant for Nickelodeon, the National Association of Television Program Executives, Discovery Channel Pictures, and the Centers for Disease Control and Prevention. 
Research Interests
Social and Psychological Effects of the Media
Developmental Differences in Children's Responses to the Media
Children's Emotional and Cognitive Processing of Media Messages
Youth and Media Policy
Education
B.A. 1979 University of Wisconsin Madison
M.A. 1982 University of Wisconsin Madison
Ph.D. 1985 University of Wisconsin Madison
Highlighted Publications
Strasburger, V. C., Wilson, B. J., & Jordan, A. B. (2014). Children, Adolescents, and the Media. (3 ed.) Sage Publications.
Recent Publications
Anderson, C. A., Bushman, B. J., Bartholow, B. D., Cantor, J., Christakis, D., Coyne, S. M., Donnerstein, E., Brockmyer, J. F., Gentile, D. A., Green, C. S., Huesmann, R., Hummer, T., Krahé, B., Strasburger, V. C., Warburton, W., Wilson, B. J., & Ybarra, M. (2017). Screen violence and youth behavior. Pediatrics, 140, S142-S147. https://doi.org/10.1542/peds.2016-1758T
Strasburger, V. C., Wilson, B. J., & Jordan, A. B. (2014). Children, Adolescents, and the Media. (3 ed.) Sage Publications.
Hefner, V., & Wilson, B. J. (2013). From Love at First Sight to Soul Mate: The Influence of Romantic Ideals in Popular Films on Young People's Beliefs about Relationships. Communication Monographs, 80(2), 150-175. https://doi.org/10.1080/03637751.2013.776697
Martins, N., & Wilson, B. J. (2012). Mean on the Screen: Social Aggression in Programs Popular With Children. Journal of Communication, 62(6), 991-1009. https://doi.org/10.1111/j.1460-2466.2011.01599.x
Martins, N., & Wilson, B. J. (2012). Social aggression on television and its relationship to children's aggression in the classroom. Human Communication Research, 38(1), 48-71. https://doi.org/10.1111/j.1468-2958.2011.01417.x